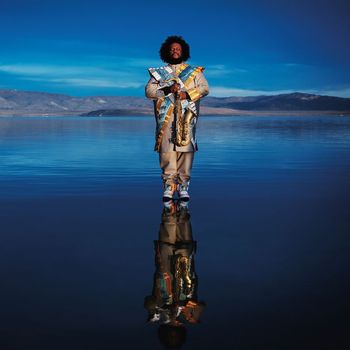 Extrait Heaven and Earth
Date de sortie:
2018-06-22
Label:
Young Turks Recordings
7digital

Ce qu'on en dit:

Le roi de la scène jazz actuelle est de retour avec un deuxième album tout aussi doux que passionnant comme attendu mais ouvertement plus politique cette fois. Le saxophoniste de Los Angeles Kamasi Washington a décollé après son travail sur To Pimp A Butterfly, et a fait sensation avec les propos virulents de cet album. Il en résulte un mélange entre une réalité sans passion et une imagination céleste. Un double album avec les cris rassembleurs sur Earth, qui rencontrent les inspirations rêveuses sur Heaven. Ce n'est pas aussi sérieux qu'on pourrait le croire car ces albums regorgent de sons vicieux comme une bande son de films des années 1970, ce qui est très drôle. Sur Heaven et Earth Kamasi Washington prouve avec son groupe qu'il est bien plus ambitieux et immersif que jamais.
Disque 1 de 2

| Numéro de titre | Nom du titre | Durée du titre | Prix/Lien d'achat |
| --- | --- | --- | --- |
| 1 | Fists of Fury | 9:43 | |
| 2 | Can You Hear Him | 8:54 | |
| 3 | Hub-Tones | 9:10 | |
| 4 | Connections | 8:24 | |
| 5 | Tiffakonkae | 9:24 | |
| 6 | The Invincible Youth | 9:53 | |
| 7 | Testify | 5:44 | |
| 8 | One of One | 9:50 | |
Disque 2 de 2

| Numéro de titre | Nom du titre | Durée du titre | Prix/Lien d'achat |
| --- | --- | --- | --- |
| 1 | The Space Travelers Lullaby | 10:31 | |
| 2 | Vi Lua Vi Sol | 11:07 | |
| 3 | Street Fighter Mas | 5:58 | |
| 4 | Song For The Fallen | 12:41 | |
| 5 | Journey | 8:51 | |
| 6 | The Psalmnist | 7:18 | |
| 7 | Show Us The Way | 6:51 | |
| 8 | Will You Sing | 10:13 | |
Durée totale:

2:24:32
Genres:
℗ 2018 Shoto Mas Inc. under exclusive license to Young Turks Recordings
© 2018 Shoto Mas Inc. under exclusive license to Young Turks Recordings